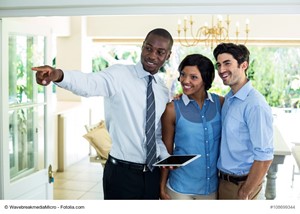 If your house is already on the market, you're probably familiar with the hectic process of getting it in presentable condition for the next showing.
Since there are so many things to remember, it can be helpful to create a "pre-showing checklist" you can refer to whenever you need it. Your reliance on the list will probably diminish over time, but it can be a good way to become more organized, focused, and efficient.
Even the simple action of writing down your priorities will make an impression on your mind and help reinforce your memory of what needs to be done prior to a showing or open house. Here are a few tips for staying on track, simplifying the process, and remembering important tasks that are all-too-easy to forget.
Stay One Step Ahead of Dust
Ideally, every room in your house should be dusted at least once a week, but that chore often tends to get postponed, overlooked, or just plain avoided! The problem with not dusting on a regular basis is that it tends to accumulate and get worse. What often occurs to home sellers is the sudden realization -- typically, just before walking out the door prior to a scheduled house showing -- that there's a thick layer of dust on your window blinds, baseboards, or book shelves.
If you're literally minutes away from a real estate agent showing up at your front door with clients, it's generally too late to do anything about the dust accumulations. However, if you've tackled those issues a day or two before they're walking up your front pathway, you can put your mind at ease that you've conquered the "grunge factor"! If you happen to have a housekeeper handling those details, it might pay to casually remind them to do an extra-thorough job on those dusty, grungy areas.
If you have kids (and even if you don't), dirt, finger prints, and hand smudges can often be found around light switches, cabinets, and door areas. While that might be the last thing you think about when preparing your home for a showing, it could be one of the first things potential buyers notice. Although perfection is an unrealistic standard to aspire to, "the devil is in the details!" In other words, it can be the small, easily overlooked details that undermine your chances for making a great impression on prospective buyers.
A Word About Mouse Traps
Whether you live in a mansion or a bungalow, nearly all homeowners occasionally have problems with mice sneaking into their basement, garage, or attic. Sometimes the little critters even find their way into your main living area (eek!). That's why it makes sense to set up a few mouse traps in areas where mice are most likely to enter. Mouse traps come in a variety of designs, some of which are better for homes with pets, children, or squeamish adults!
When it comes to preparing for a house showing, it's always a good idea to check mousetraps for "victims" that may have sprung your devices. Ideally, mousetraps shouldn't be placed in conspicuous spots, but you definitely don't want buyers to see dead mice anywhere in your house. Granted, live ones are worse, but -- in either case -- any infestation (or the perception of one) could be a deal breaker!